Cricket Namibia is the national governing body of cricket in Namibia and it is important that we acknowledge and reward the exceptional work and the results gained by club members, players, administrators, and every stakeholder involved in growing the game of cricket in our country.  
The Cricket Namibia 2020 Annual Awards was hosted on Friday, 27th November 18h00 at Wanderers Cricket Club. Although 2020 has not been an easy year with less sporting activities, the 2020 awards were based on key performances and statistics as of August 2019 – August 2020.
This prestige event was attended by special guests; Minister of Sport, Youth and National Service, Honorable Agnes Tjongarero, Ministry of Sport, Youth and National Service Executive Director, Dr. Audrin Mathe, and Namibia Sports Commission Chief Administrator, Mr. Simataa Mwiya. The ceremony kicked off with words of welcome by Cricket Namibia CEO, Johan Muller, remarks by ICC Africa Development Manager, Patricia Kambarami and a message by Cricket Namibia President Dr. Rudie Van Vuuren.
National Men's Player of the Year was awarded by the Hon. Minister, Agnes Tjongarero and Cricket Namibia President, Dr. Rudie Van Vuuren to the National Men's Team Captain, Gerhard Erasmus. Gerhard has led the team to the semi-finals in the T20 World Cup qualifier, an ODI series win in Florida USA and most importantly player of the tournament at the T20 World Cup Qualifier in Dubai. With this outstanding performance with bat, ball and world-class fielding, Gerhard has raised the bar and standard extremely high. He is a natural leader with an incredibly good tactical approach to the game. He is respected by all his teammates and coaches. He inspires with his courage and selfless approach and can be a proud captain. The National Women's Player of the Year award was awarded to Irene van Zyl as she was the best all-rounder in the team.
Cricket Namibia gives opportunities and chances to focused players and we acknowledge and embrace their growth. The most improved National player has been one of the players that performed well under pressure and took advantage of every opportunity to remain in the team. He always gives 100% on and off the field living the Eagles culture with his heart on his sleeve. This young player leads from the front in the Strength and Conditioning department as he always strives to improve. He is a team man which is one of the most hard-working players in the squad, and the award was rewarded to Karl Birkenstock.
Spirit of Cricket Award – a team with outstanding performance has been the National Men's team. The team qualified for participation in our first ever T20 World Cup, they currently won five of their 8 ODI matches as part of the ICC League 2 and they received the ICC Award for best team performance of the year among 92 other Associate Members.
Coach of the Year is an award that showed evidence and successful performance at International level, and it was awarded to the National Men's Head Coach, Pierre de Bruyn. He has adopted a player-centred approach for coaching, sat up a structure where the culture of the National side has improved and channeled down to all age group cricket. He won tournaments and executed instruction where the ICC tournaments are the result – Won ICC WCL Div 2 & Won ICC Africa T20 Qualifiers in Uganda. He helped the team obtained ODI Status by winning the ODI International Match against Oman in the ICC WCL Div 2.
The conversion from club cricket to International level always came as an enormous challenge for local players. The need to improve or introduce a remedy was always spoken about until 2017 when CN office Administration introduced the Franchise T20 competition. This format and quality of cricket became the next and highest level of cricket for National Men, u19 and elite club players to step up and play a greater intensity of cricket. Statistics alone can speak for itself, comparing Club T20 stats with the Franchise T20. The Winner for the Richelieu Franchise was presented by Distell Managing Director, Leon Fouche and the winner was BA Blasting who finished off the entire competition at the top of the log table. There have been outstanding performances during the Richelieu Franchise Competition and players such as the young Divan la Cock, who was the top batsman and Nicolaas Scholtz who was the top bowler both received awards.
Cricket Namibia launched a Veterans Cricket Association which solely accommodates cricket lovers that are 40 years and older to keep playing the game and represent Namibia at International level. Namibia participated as an Invitational Team in the Over 50 World Cup 2020 which was hosted in Cape Town and there were outstanding performances by our Cricket Legends. Dee Thakur with an excellent spell of off-spin against Pakistan was presented an award for the Namibian top bowler, and Gavin Murgatroyd, an excellent half-century against England received an award for the top batsman.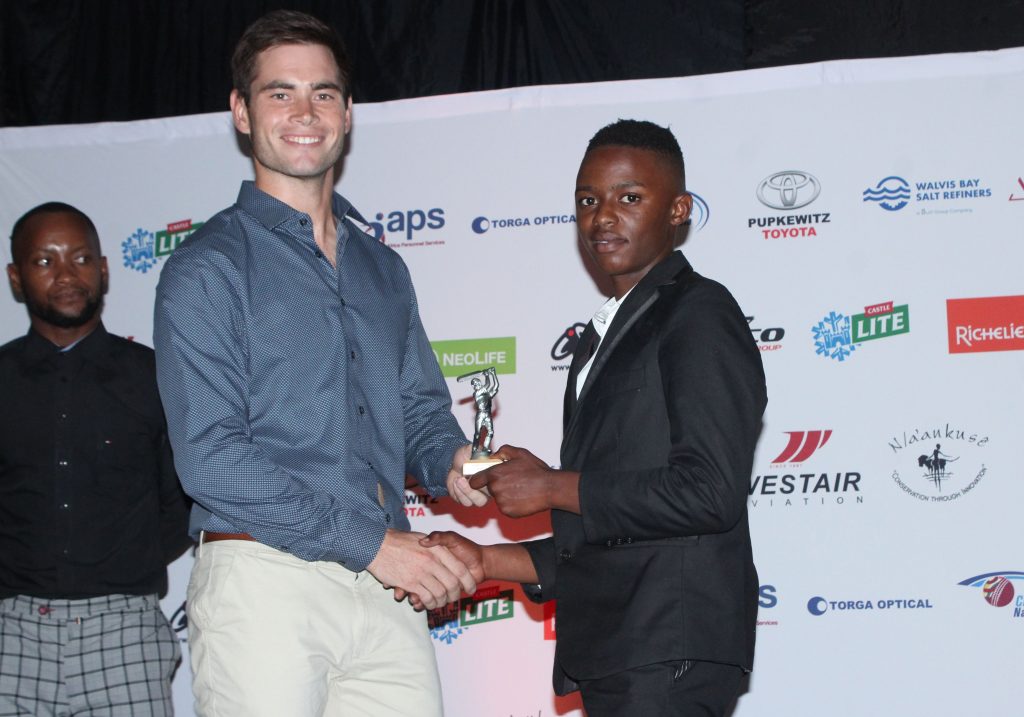 The Cricket Namibia Lifetime Honouree Member Award was presented by Doc Rudie van Vuuren to a loyal member of Cricket Namibia, CN Patron Francois Erasmus:
• Played for WHS 1st team from 1975 – 1979.
• Played for SWA Schools in Triumph Week from 1977 – 1979.
• Played for SA Country Districts Schools "A" – 1978.
• Captained SWA Territorial Force team: 1987 – 1988.
• Represented Namibia at Zone 6 – 1992.
• Represented Namibia at Over 50's CWC Cape Town – 2020.
• Appointed as Namibia National team manager 1996 v Italy, continued until 2004. (8 years)
• Appointed convenor of selectors: 1998 – 2004.
• Manager of Namibia team to ICC Trophy in 1997 (Malaysia) and 2001 (Canada).
• Manager of Namibia team to CWC 2003.
• Awarded Administrator of the Year 2002 by Namibia Sport Commission.
• President of Cricket Namibia: 2004 – 2014. (10 years)
• Sat as Associate Member representative on Chief Executive Committee of ICC: 2009 – 2014.
• Served as Director on ICC Executive Board: 2014 – 2018.
• Member of Development Committee of ICC: 2010 – 2018.
• Member of Audit Committee of ICC: 2014 – 2016.
• Established WHSOBCC in 2010.
• Chairman of WHSOBCC: 2016 – 2020.
• Patron of Cricket Namibia: 2018 – 2020.
• Involvement in cricket in SWA / Namibia: 45 years.
• Administrator for Cricket Namibia: 25 years of service.
Recognition for service to Cricket Namibia award was awarded to Hester Khan. Her passion to grow and develop women's cricket in our country is inspiring. There were numerous first-time-ever events that were created by the women's committee e.g. the first official Women's League that was played amongst four Women's teams in October 2015 which grew to a 10 team women's league in 2019 and to continue this year in December at the Coast.
As chairperson of the women's committee, Hester managed the Namibian Women's team who competed in the World Cup qualifying rounds in Scotland during September 2019. Thus ending 2019 for Women's Cricket, with another first time ever event in the history of women's cricket in Namibia. With the platforms and basic structure that was created by the previous Women's Committee, and the appointment of a full-time Women's Co-ordinator/Head Coach by Cricket Namibia, Women's cricket is now able to reach much greater heights. Hester has been actively involved in the revival of women's cricket in Namibia, by creating platforms for the players and by growing the game for girls and women. Her passion for women's cricket speaks in her work.
Other awards
Age group players of 2019 to be presented by Stephen Baard & Picky Helao Ya France
He had the highest individual Score of 87 runs on Tour. He also had other scores of 38 & 47 playing for the U/13A side in the Cape Town Under 13 Tour in 2019
Recipient: Jandré Botha
During the PG Bison U/15 tour to South Africa he played for Namibia U/15A team. He bowled exceptionally well and managed to take 14 wickets in only 5 games with an economy rate of only 3.16.He took 4 wickets for 36 runs from 15.0 overs against Mpumalanga.4 wickets for 70 runs from 24.0 overs against SWD & 3 wickets for 19 runs from 8.4 overs against Limpopo.
Recipient: Romano Paulus
He scored a century in the U/19 World Cup Qualifiers against Sierra Leone.
Scored 102 from 110 balls and ended not out. He also scored another half century against Uganda and ended on a not out. He Scored 50 of 56 balls. He was also named Captain for the U/19 Namibian team that took part in the CSA Cubs Week, playing against the best of the best in South Africa. At this tournament he scored a lot of runs with an average of 61.8 runs, and his highest score were 89 not out against the WSB Cape Cobras Cubs. He also scored 70 runs against the Imperial Lions Cubs team. He ended up in the top 5 run scorers of the Cubs Week.
Recipient: Matthew de Gouveia
The following youth coaches received awards, and was presented by Henno Prinsloo
This award is for a young coach who have invested in development as a coach and have made a significant impact on the players he coaches. He needs to help players / teams reach their potential through dedicated coaching. He invested time and energy in the development as a coach, undertaking continuous professional development opportunities, created a safe, inclusive, and enjoyable environment for participation and demonstrated innovative practice in the coaching programs
Achievements:
He coached:
U12 Somerset West, Won 4, Lost 2 Matches, U13A Worcester, Won 2 x T20, Won 1 x Time Cricket, Won 1 50 Overs & Lost 2 50 Overs Matches
Recipient: Albert Mwembwe
This award is for a school coach who have invested in his team/s as a coach and have made a significant impact on the players he coaches.
Achievements:
He coached: U/15 & U/19 teams of Windhoek Gymnasium and Both teams won their respective school leagues in 2019
Recipient: Gerhard Lötter – Windhoek Gymnasium
Development Programme was presented by Mr Pieter Laubscher of FNB Namibia & Daneel van der Walt
Kwata Administrator of the Year
This Coach Joined the school at the beginning of the year, he made an effort to attend a Kwata cricket Course in Walvis Bay, and he then went back to his school and formed 4 teams that he has been coaching at the school.
Recipient: Sydney Mutelo
Recipient: Narraville Primary Schoolb
Development Region of the Year
This year's region of the year is one that has played 4 Kwata leagues, each league had different schools and sometimes a combination of the same schools. This was the only region to have played, inters class league at the different schools. The Inter school Kwata cricket league.
Recipient: Khomas Region coached by Wilbard Nendongo
Ben Shikongo & Mauritius Ngupita to hand over award with Mr. Laubscher & Daneel van der Walt
Development Officer of the Year
He has been doing cricket development for the past 10 years.
He has constantly increased the number of participation year in and year-round. He has taught all his senior players to become coaches for mini cricket and one of the coaches he taught from mini cricket is also currently employed as a Kwata Development officer.The Kuisebmond Regional Centre produced two of Cricket Namibia's currently contracted national players, Ben Shikongo & Mauritius Ngupita
Recipient: Justus Hangula
Thank you Boeta – An award to Boeta Mouton to recognise his service and assistance towards Cricket Namibia Coastal players, National players and age group cricket with his excellent services of transporting and travelling between Windhoek and Walvis Bay.
Best batsman & bowler awards
Women's League Awards presented by Mrs Helga Volschenk / CN Board Member
Women's Best Batsman for 2019/2020
Recipient: Yasmeen Khan
Women's Best Bowler for 2019/2020
Recipient: Saima Tuhadeleni
Announcement of Best batsman & bowler for the domestic club leagues
The Best batsman & bowler was presented by Mr Simataa Mwiya, Chief Administrator Sports Commission of Namibia & Mr Henno Prinsloo
Reynhardt Schietekat / Otjiwarongo C C 291 runs
Sarel Herbst / Otjiwarongo C C 15 wickets
Reynhardt Schietekat / Otjiwarongo C C 336 runs
Neels Labuschagne / Otjiwarongo C C 12 wickets
Keith Kondo / Gobabis C C 368 runs
Stefan Bezuidenhoudt / Gobabis C C 19 wickets
Ewald Steenkamp / Wanderers 324 runs
Lu-Hendro de Waal / Wanderers 15 wickets
Top batsmen: T20 1st Division Coastal
Dian Neethling / JCCA 159 runs
Top bowler: T20 1st Division Coastal
Enrico van der Westhuizen / Sparta 9 wickets
Top batsmen: 40 overs 1stDivision Coastal
Matthew de Gouveia – Blue Waters 300 runs
Top bowler: 40 overs 1st Division Coastal
Jurie Engelbrecht / Sparta 19 wickets
Top batsmen: T20 Premier League
Nicol Loftie-Eaton / CCD 286 runs
Top bowler: T20 Premier League
Gerhard Erasmus / WHSOBCC 9 wickets
Top batsmen: 50 overs Premier League
JP Kotzé / Wanderers 330 runs
Top bowler: 50 overs Premier League
Danie van Schoor / United 13 wickets
Club Awards
Announcement of Cricket Namibia League Winners T20 winners presented by Daneel van der Walt – CN Board Member
Winner: Otjiwarongo Cricket Club
Winner: JCCA
Winner: Gobabis Cricket Club
Winner: CCD 1
The Limited Over Cricket Namibia League winners presented by Trevor Britten – CN Board Member
Winner: Otjiwarongo Cricket Club
1st Division Coastal 40 Overs
Winner: JCCA
1ST Division Central 40 Overs
Winner: Wanderers 2
Winner: WHS Old Boys Cricket Club 1
Achievements:
2018/2019 season: JCCA won the T20 Coastal League as well as the T20 Regional Championship. JCCA also won the 40 Over Coastal League as well as the 40 Over Regional Championship.
2019/2020 season: JCCA won the T20 Coastal League as well the 40 Over Coastal League. No Regional / National play offs were played due to the Covid-19 pandemic. The JCCA team is made up out of 70% players younger than 19 with players as young as 13 years old, 20% players older than 19 but younger than 30 and 10% of players older than 30. The players are from different ethnic backgrounds. All of the above achievements could not have been gained without a dedicated coach, especially with the young team he is working with!
Recipient: Lauritz Haccou – JCCA
Individual Awards
Individual Awards presented by Polly Negongo – Vice President CN Board
Providing World Class playing facility and Venue during 2018/2019 Cricket and during the u19 World Cup Qualifiers, Namibia also hosted the World Cricket League Division 2 and played in a winning final on Wanderers.
He has been a long serving member at Wanderers CC as a player and at National level during his cricket playing career for well over 30 plus year. He continued his commitment and love in the role as a curator after retiring from Umpiring. For his service to Cricket and delivering quality facility this reward is fitting to celebrate his contribution during 2018/2019.
Recipient: Wynand Louw
The Scorer's awards will be awarded to scorers as per their progress & achievements during the 2019/2020 season.
Recipients:
Senior Club Scorer
Junior Club Scorer
The Umpire's nominees had been received directly form the Umpires Association an affiliated member of Cricket Namibia. The following categories are awarded.
Recipients:
Umpire of the year
Most improved umpire of the year
Raymond van Schoor Award presented by Zandré Kotzé / Trustee Member of the Raymond van Schoor Trust
This player made his First-Class debut for Namibia on 8 February 2018, List A debut on 11 February 2018 and T20 debut on 19 August 2019. In September 2019 he was named in Namibia's squad for the 2019 ICC T20 World Cup Qualifier tournament in the United Arab Emirates whereby he opened the bowling in his first game against Scotland.
His bowling average during 2019/2020 in T20 International is 18.71 with an economy rate of 5.69.
The past year this young athlete showed discipline, dedication, persistence, and self-belief on and off the field and deserves to be rewarded for his growth. The winner of the Raymond van Schoor award for 2019/2020
Recipient: Ben Shikongo
Photo Credit: Andrew Poolman